Zapdex - Keep track of things. Easy. Free. No strings attached!
Overview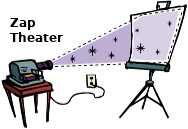 Create great presentations and put them on the Internet. Really easy!
You don't need a web site. No charge and no strings attached!
It is really easy to "tell your story" - and make it fun to watch.
Your shows play "full screen", and you can send links to the show
Your slides can include videos, podcasts, external web pages, etc.
and much much more.
ZapTheater is free, no strings attached!
Hover over the links below for more detailed information.
For demo shows and tutorials, click the links in the footer.
Compelling business presentations
Tell any story with fun animations
Create action filled family albums
Make sliders for your site
Sideshows at viewer request
Include external web sites
Pause to watch embedded videos
Each iteration of the
slider

alerts Google Analyltics that
the user is still on your site.
ZapTheater sliders
combined with Google Analytics
is the only accurate way
to monitor sesson duration
on your web site!
Images
Dynamic image filters
Foreground/backgound blending
Supports all common image formats
Link to images on any server
There are millions of free images
Dynamically animate images
Add a background color to image
Add a background image to an image
CSS Timing Function
Z-index controls
Captions
Backgrounds and borders
Dynamic resizing on page
Skew, rotate, flip, etc.
Banter
Dynamic color changes
Dynamic borders
Colored backgrounds
Choice of web safe fonts
CSS Timing Function
Z-index controls
Backgrounds
Background colors
Background gradients
Background image
Dynamic image/color blending
Swap images after page load
Floating background images
Resize and swap images
Merging background transitions
Dynamic text highlighting
Background Repeat
More
Zaptheater is free, no strings attached!
It is easy and fun!!!
Nothing to download or install - just sign up and go for it
Include external web pages
Compatible with Facebook, Youtube, Twitter, etc.
Add sideshows that play then automatically return to your presentation
Add a Google Analytics tag to any slide
Chain multiple shows into loop for great sliders.
At the end of the show it can go to any URL, ie. your home page
We provide free support via email
General

Watch


Slider

Demos

Tutorials

Contact


Email: frank@zaphelp.com

Phone: (714) 442-7931

Create/Edit Show